In this article
Vehicle / station logs
Check Type - Set to "Vehicle/Station" by default, which allows you to view inspection history on checklists that are associated with a particular unit. Select "Department Checklist" to view history on checklists that are not tied to a specific unit.
Unit - The vehicle or station you want to run the report for. Note that the list is filtered depending on the station you're in, so if you don't see the unit you're looking for, try changing stations.
Checklist - A list of checklists associated with each unit (e.g. Daily Checks, Weekly Checks, etc.).
Task Group - A compartment name or subgroup of the selected checklist (e.g. Compartment 1, Cab, etc.).
Task - The specific task listed in a subgroup (e.g. Mileage, 1.5" Hose, etc.).
Logged By - The user who completed the inspection.
Date - Input a date range to view what got done. Note that the wider the date range, the longer the report will take to generate.
Once you click View Search Results, the results will be displayed below. You can sort the columns by clicking on the column name, filter the results in the fields beneath each column, and search through the results using the search bar. You can also modify which fields are displayed using the View dropdown. If you want to export the information, click Export and save the file as a PDF or Excel document (or print it out).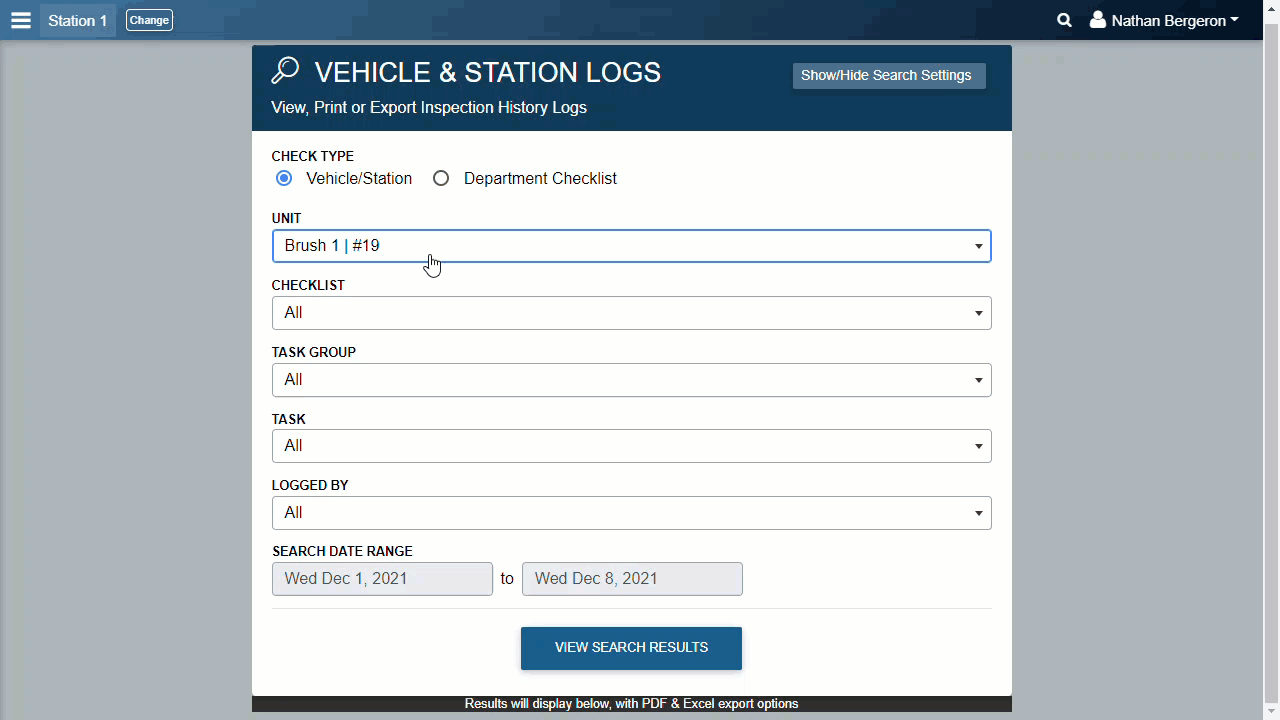 ---
Custom reports
Custom reports allow you to retrieve information out of the logs efficiently - across multiple apparatus and stations. Instead of having to run logs for each vehicle separately, custom reports allow you to extract data from all the vehicles you want at one time, making it easy to gather mileage & hours information, view supply quantities, and more. Take a look at this article for more information on how to set them up. Custom reports can be viewed by navigating to Vehicle & Station > Logs & Reports > Custom Reports.
---
OOS report
The OOS Report (Vehicle & Station > Logs & Reports > OOS Report) calculates the time each vehicle has been set to out-of-service status for a given date range, providing admin staff the necessary data to make fleet decisions.
---
Fleet Status Report
The Fleet Status Report (Vehicle & Station > Fleet Status Report) displays an organization-wide view of your entire fleet, so you can manage all of your vehicles in one place. See how it looks here.
---
Other vehicle / station reports
There are a variety of other reports that can be found under Vehicle & Station > Logs & Reports, including:
Current Tasks Due Summary - The number of scheduled vehicle / station tasks that are currently due.
Current Tasks Due Detail - A list of specific scheduled vehicle / station tasks that are currently due but not yet completed.
Incomplete Tasks Summary - The number of scheduled tasks that were incomplete on a given day, based on the time the status report email runs.
Incomplete Tasks Detail - A list of specific scheduled vehicle / station tasks that were incomplete on a given day, based on the time the status report email runs.
On-Time Completion Report - Shows the percentage of vehicle / station tasks done on-time in this station.
Checklist Schedule - Lists the task interval for each vehicle / station checklists in this station